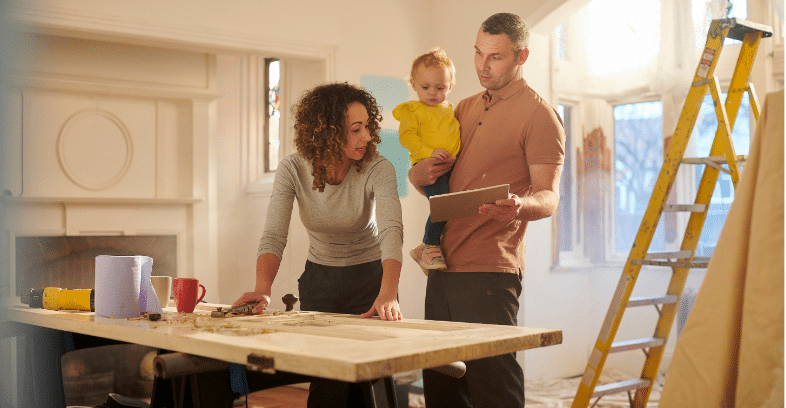 Transforming Your Home
Do you want your home to stand out from the rest of your neighbors? Are you looking to add a bit of extra curb appeal to attract potential buyers? Here are sixteen projects that can give your home a much-needed makeover and boost its value!
Go Green
Adding some fresh greenery and flowers to your home's exterior can make a huge impact on its curb appeal. Put window boxes and planters around your windows and entryways to frame the visuals and create an inviting atmosphere. Even one beautiful arrangement of plants can make a huge difference!
Take Care of Your Lawn
Caring for your lawn is essential in maintaining curb appeal. Keep your grass mowed, leaves raked, and weeds pulled. You may also want to consider adding some shrub beds or artificial turf if you live in a drier climate.
Make Your Door Pop
Painting your front door is an easy DIY job that can drastically improve your home's exterior. Choose a bold color that accentuates and enhances your home's other colors. If you're unsure, use the Front Door Paint app to virtually test out different colors.
Let There Be Light
Adding more lighting to your entryway is a surefire way to make the space more welcoming. Replace old sconces and pendant lights with something a bit more fun and fresh. You can also hang some porch string lights or use solar powered lanterns to light up a walkway.
Embrace Symmetry
Symmetrical patterns draw the eye and make your home look more put together. Put matching wall lanterns or plants on either side of your front door for a striking effect. If you don't have room at your entryway, do the same around your garage door.
Makeover Your Mailbox
Swap out an outdated mailbox with something more stylish. You can find mailboxes for as little as $50 to $200 depending on the type you need.
Hide Electrical Fixtures
An electrical box can really stand out, so make it blend in by painting it a color that matches your siding.
Power Wash It Off
Power washing your siding, porch, walkway, and driveway can make an incredible difference in your curb appeal. If you don't have a power washer, you can rent one from a local hardware store.
Add Some Front Door Décor
Wreaths can add an element of elegance to your front door throughout the year. Look for wreaths made from dried or preserved greens and florals, or purchase one made from faux plants for an easier option.
Upgrade Your House Numbers
Replace your old house numbers with something that has more of a wow factor. Choose a font that aligns with the architecture of your home but is also distinctive enough to grab the eye.
Stain Your Garage Door
Give your garage door the look of a brand new one by staining it a new color. Make sure to power wash it first, then paint on your stain.
Fix It Up
Take care of any small repairs, like ripped screens, burned out bulbs, or chipped paint. Even the tiniest flaws can stand out against an otherwise picturesque exterior.
Design a Clear Path
Define a clear path to your front door with lighting and plants. You can also build one out of stone or brick.
Utilize Outdoor Furniture
Find a balance between having too much outdoor furniture and too little. Make sure all of your outdoor furniture is in good condition and clean.
Add New Door Hardware
Replace your existing hardware with something new